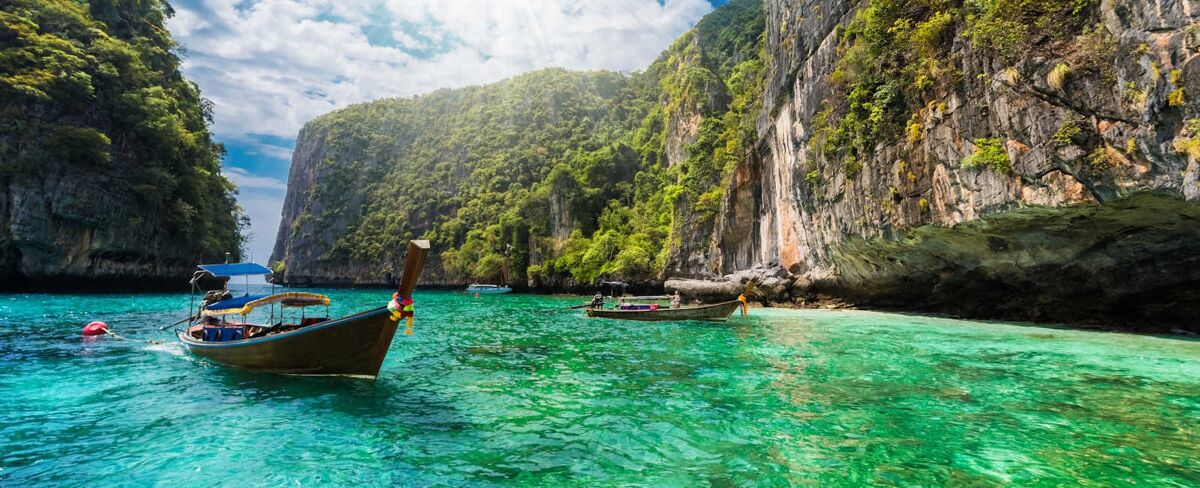 Explore Thailand
A country that is all-at-once tropical, tranquil and thrilling, the Thailand experience is truly energising. Roaming from rainforests to animated cities bursting with colours, scents and sounds you'll explore the exotic and the enchanting in Thailand. Including city havens and island hotspots, we've travelled across this magnificent country to find you the very best places to stay.

From energetic Bangkok to the emerald waters of the coast, Thailand is a feast for all your senses. Wherever you decide to travel, your experience will be full of discovery. The landscape of northern Thailand is one of enchanting mountains studded with paddy fields and ornate Buddhist temples. To the south are beaches imbued with all the tropical trimmings, hubs of gastronomic innovation, and islands that look like they have been created by illustrators. In the middle is Bangkok Thailand's beating heart.

Even if you're planning on a Thai coastal adventure, the magnetism of Bangkok is often too strong, with many people spending at least a few days there. From the buzz of life at the floating markets, to the palaces and temples that soar above the city, every corner of Bangkok has its own personality. The common thread is high energy, and you'll soak this up no matter where your journey in the city takes you.

For a totally different take on city life in Thailand, it's worth travelling to Chiang Mai in the far north of the country. This is where you'll experience far reaching views and the tranquillity of grand temples scattered across this mountain city. Shop in bustling markets, get involved in the spirited nightlife, or hike and kayak in the tremendous local landscape. From north to south, Thailand's personality shows a new side, where otherworldly limestone karsts and white sandy beaches offer a different kind of energy. The coastline and islands including Phuket, Phang Nga and Koh Samui are all about postcard-perfect beach life, adventures on the water and jungle exploration. On land, visit elephant sanctuaries, shop for fashion and crafts, and take in the majesty of Buddhist art. On the water, go diving, try your hand at an array of water sports, and embark on a magnificent sunset cruise.

If you didn't already know it, there's a reason that Thai food is famous the world over. Thai cuisine is all about fresh, aromatic and confident flavours and you'll discover it at its very best on your travels. Grilled meats, succulent seafood and locally grown vegetables served with Thai flair will delight your taste buds time and again. In Thailand, you'll come across market and street stalls, noodle and rice shacks, and fine dining establishments in Bangkok and the resorts. Wherever you eat, expect flavours that make your taste buds sing and your mind look forward to the next meal! Embarking on a Thai cooking class might just be the best souvenir you can bring home with you.


When to visit
Thailand's climate experiences a hot season (March to May), a rainy season (May to October) and a cool dry season (November to March). These seasons are felt more acutely in the north of the country, but much less so in the south, where temperatures also remain warm for much of the year. As a result, many people visit Thailand any time of year.
Lorem 6 ipsum dolor sit amet consectetur adipisicing elit. Architecto earum neque, nihil, eos quaerat modi magnam et recusandae, consequuntur hic accusantium sapiente itaque praesentium atque! Quisquam nemo accusamus doloribus quis laborum illo magni aliquam non architecto aperiam dolores, excepturi fugiat ut aliquid quaerat, minima porro maiores, sint molestias voluptate. Facilis repudiandae labore cupiditate odit alias ex nesciunt laboriosam quam ipsam veritatis at quia unde consectetur quos inventore hic vel consequuntur dolorem assumenda deserunt vitae vero obcaecati, adipisci dolore. Nihil soluta cum placeat, doloremque eius ea rem mollitia, cupiditate voluptatem vitae sequi facilis quod numquam aliquid, repellendus odit quasi tempora suscipit!
Featured Hotels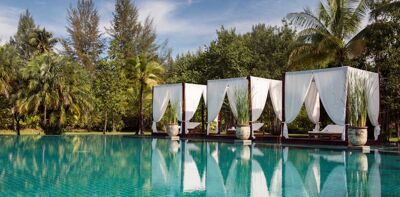 The Sarojin
5 Star Boutique
A boutique hotel infused with an air of romance, The Sarojin lies ensconced in a lush tropical garden and edged by an 11km beach. A sanctuary for couples, delight in private dining experiences, luxurious guest rooms, awe-inspiring views and pampering spa treatments.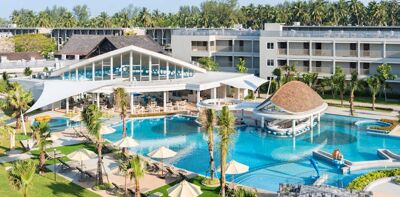 The Sands Khao Lak by Katathani
4 Star Superior
Intelligently designed, The Sands Khao Lak by Katathani offers a welcoming ambience with a personalised feel. Dotted with palm trees, the lush tropical landscape is framed by the brilliant blues of the sea, sky and swimming pools.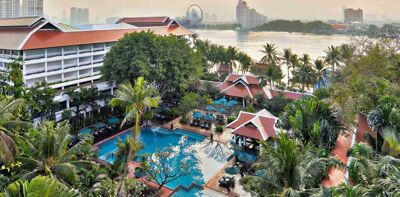 Anantara Riverside Bangkok Resort
5 Star
Anantara Riverside Bangkok Resort, Bangkok's only low-rise resort hotel, is located on the west bank of the Chao Phraya River amidst eleven sprawling acres of mature greenery. A few miles south of central Bangkok, regular boats whisk guests to Saphan Taksin Skytrain station, whence it is a few stops to the main tourist area. A river taxi to the Royal Palace takes about 30 minutes.