Hotels with Michelin Star Dining
We've taken a global look at the noble profession of cooking and the culinary arts to highlight some of the best addresses in which to savour a flavour of the world's finest cuisine. With this collection of our favourite hotels for discerning diners, we'll serve you sensational cuisine against a backdrop of some of Europe's finest views and invite you to dinner six metres below the Indian Ocean.
Choose your destination and discover the delights of dining in Italy, Spain, Portugal and the Maldives.
How Michelin Stars are Awarded
Michelin stars are given to restaurants that display culinary excellence by the Michelin Guide, a prestigious rating system. A restaurant can receive one, two, or three Michelin stars depending on its quality. The guide is published annually by the French company Michelin. The criteria for receiving a Michelin star are strict, and a panel of inspectors anonymously visits and rates restaurants. The inspectors consider factors such as the quality of ingredients, the mastery of cooking techniques, the level of creativity, the harmonization of flavors, the consistency of dishes, and the overall dining experience. If Michelin dining is something that would enhance your holiday experience, or perhaps it's a pre-requisite, we've handpicked a selection of five and six star hotels where exquisite cuisine is very much a focal point.
Italy
There's an enviable gastronomic tradition to Italy which makes it one of the most beloved of all nations, and only France and Japan are home to more Michelin-starred restaurants. Discover innovative, creative, and ingenious cuisine in a country which is a great place for food lovers to visit.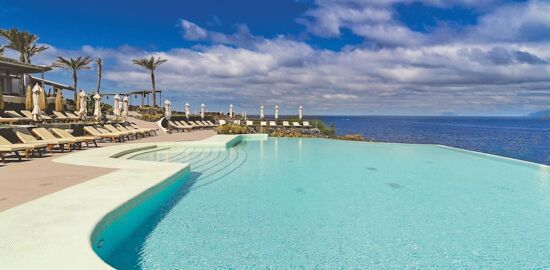 Sicily
Therasia Resort Sea & Spa
5 Star
In an unrivalled location right by the water's edge on the island of Vulcano, Therasia Resort Sea & Spa boasts stunning views across the sea towards the entire Aeolian archipelago. Elegant Michelin star Il Cappero presents fine gourmet cuisine in a superb setting with enchanting views.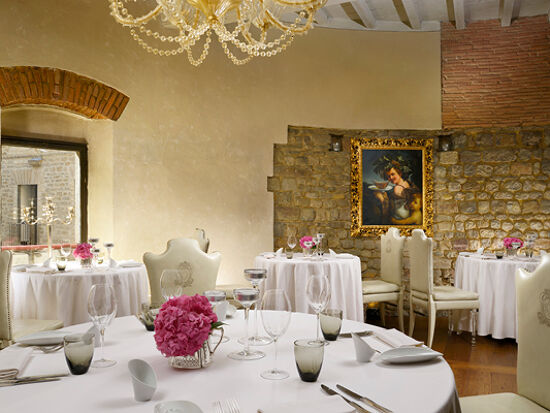 Tuscany
Brunelleschi Hotel
4 Star
Creative Campanian cuisine is collected from the pass at chef Rocco De Santis' Michelin-starred restaurant, Santa Elisabetta. Sophisticated seafood dishes are the speciality here with a wine flight peppered with interesting labels from some smaller producers Based in Italy and beyond.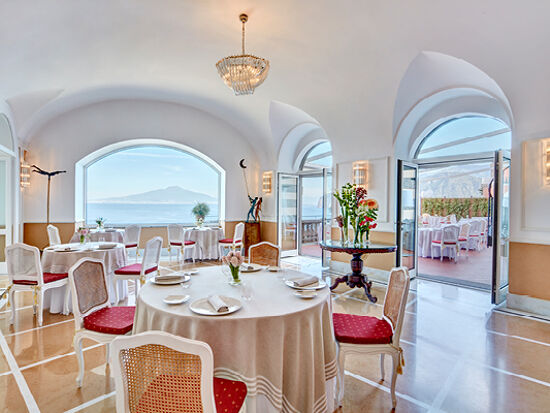 Sorrento & Amalfi Coast
Grand Hotel Excelsior Vittoria
5 Star
Restaurant Terrazza Bousquet under chef Antonino Montefusco has earned a Michelin star for his highly stylised interpretations of the local culinary traditions. There is a choice of tasting menu and a la carte options.  In good weather the romantic terrace features delightful views of the Bay of Naples.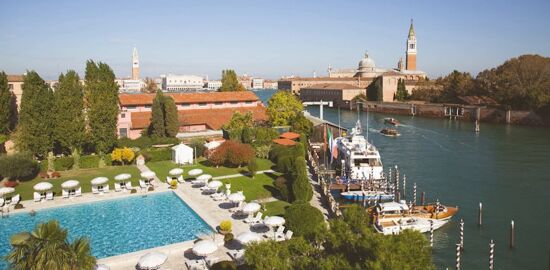 Venice
Cipriani, A Belmond Hotel, Venice
5 Star
Oro restaurant offers a superb gastronomic experience. French techniques meet the freshest Italian ingredients  from the hotel's own kitchen garden and the Adriatic.  The culinary results are outstanding as are the romantic views of the Lido and San Giorgio island.  
Spain
Even if you only plan to visit Spain for a few days, its gastronomy is sure to delight. In a country of many different climates, landscapes and environments, the focus in fine-dining circles falls upon quality ingredients based around quality local produce. Many restaurants in Spain have been rewarded with Michelin status for superb regional cuisine.
Mallorca
The St Regis Mardavall Mallorca Resort
5 Star
Chef Miguel Navarro's one Michelin star awarded restaurant Es Fum, fuses artistic cuisine influenced by outstanding local products in an elegant and romantic setting. There are quite simply superb seasonal degustation menus of six or ten courses. The service is beautifully relaxed, attentive and knowledgeable.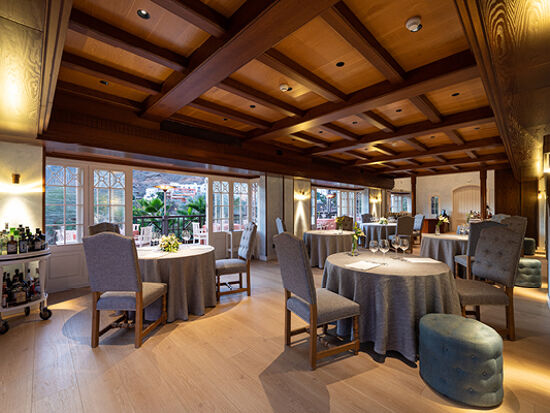 Gran Canaria
Cordial Morgan Playa
4 Star
Canarian chef Alexis Alvarez has earned a great reputation, as well as a Michelin star, for his hugely stylish creations at Los Guayres, widely regarded as the best restaurant on Gran Canaria. A choice of three tasting menus features pure and fresh flavours of the region reinterpreted and redefined.
Tenerife
The Ritz-Carlton, Abama
5 Star
Amongst the huge range of dining options here, you'll find three Michelin stars divided between two restaurants: MB – named after the initials of chef Martin Berasategui, which holds two –  and Japanese restaurant Kabuki which has the other. Berasategui also has Txoko restaurant at Abama offering a mix of raw and cured fish as well as traditional, Spanish staples
Portugal
In recent years Portuguese cuisine has earned its place at the top table as successive chefs have incorporated innovative and fusion cooking into traditional Portuguese recipes. The results have been widely regarded as spectacular, elevating Portuguese cuisine to a whole new level. The ultimate accolade of Michelin stars followed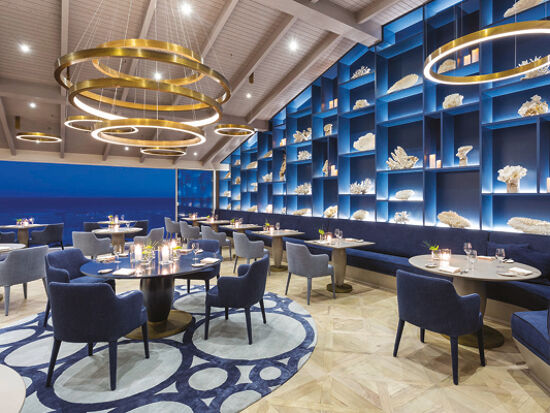 Algarve
Villa Vita Parc
5 Star
With spectacular Atlantic views, Ocean offers a grandiose fine dining experience with the perfect combination of sublime food, seamless service and an atmosphere of casual elegance; Portuguese gastronomic authenticity is firmly at its heart. Ocean has held two Michelin stars since 2011, a tribute to chef Hans Neuner and his team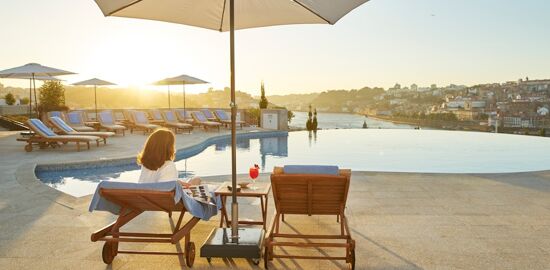 Aiming to deliver Porto's most inspiring dining experience, The Yeatman Gastronomic Restaurant headed up by chef Ricardo Costa and rewarded with two Michelin stars, offers imaginative traditional cuisine interpreted and presented with contemporary flair. There's an extraordinary panoramic view over the Douro River and an impressive selection of 25.000 bottles of old and new world wine.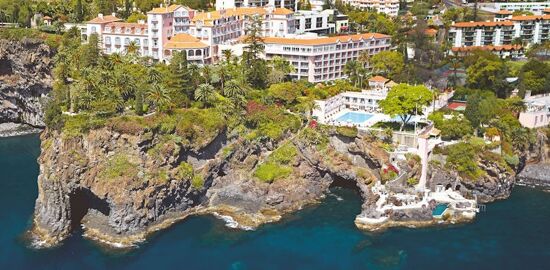 Madeira
Reid's Palace
5 Star
In the elegant dining room of the Michelin-starred William Restaurant savour cuisine with a well-established classical base that showcases the very finest of local ingredients combined with total attention to detail. The idyllic views of the Bay of Funchal, spectacularly lit at night, are worthy of special mention.
UAE
The fine dining scene in the Middle East is growing at an unprecedented rate, and Ossiano is one of our most highly rated restaurants in Dubai. Wonderfully fresh ingredients bring huge variety to the flavours of the region. In an area where the number of Michelin-starred establishments is limited, it's wise, particularly in peak season, to make restaurant reservations a long time ahead of arrival.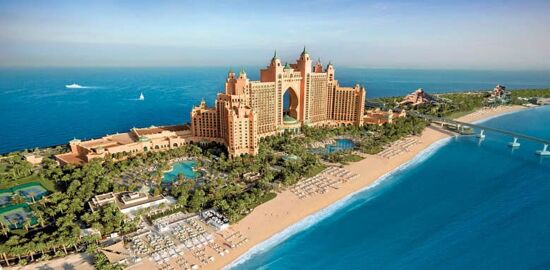 Dubai
Atlantis The Palm
5 Star
It's not just the Michelin star awarded to Chef Gregoire Berger that attracts attention at Ossiano Dubai, but also the stingrays, sharks and tropical fish in the aquarium which glide right past your table. An immersive fine dining experience which showcases some of the best produce from around the world.