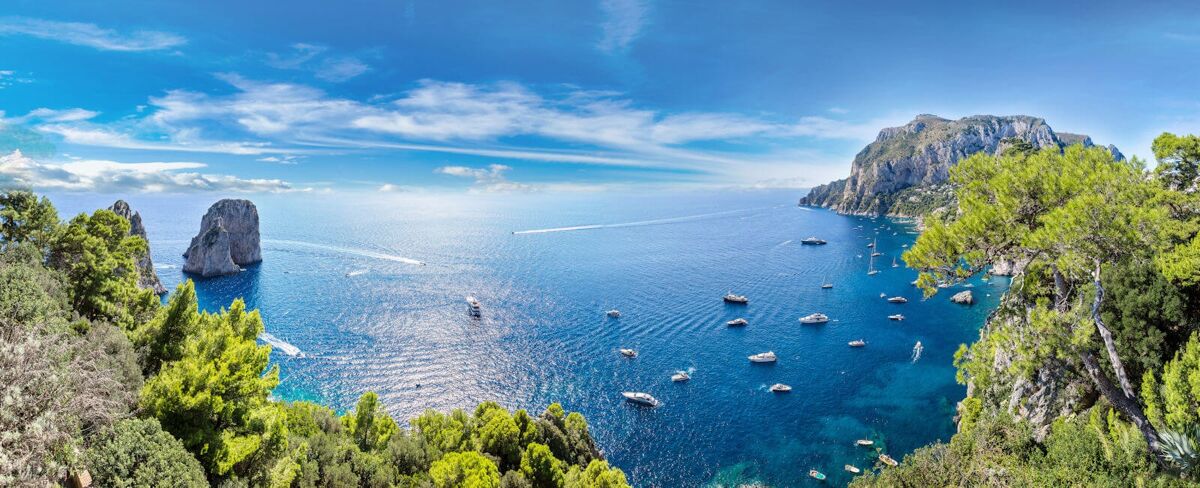 Explore Italy
Otherworldly gastronomy, visual inspiration and an innate creative culture define the experience of Italy. If you're looking for style, sights and a comprehensively sated appetite in a holiday, then Italy more than delivers. From glinting coasts to striking mountains, cosmopolitan cities to hideaway hillsides, Italy has it all. And we've travelled the length and breadth of this mesmerising country to find the best places to stay, from pristine waterfront resorts to tranquil hotels amid the countryside olive groves.

The charm of Italy is bound up in its unparalleled combination of stunning attributes. You can feel the depth of the powerful history that spans from the Roman Empire to the birth of the great artists Michelangelo, Leonardo da Vinci, Caravaggio and more in the streets and in the surety of the Italians themselves. While the art, architecture, museums and galleries tell stories of past times, the chic modern appeal of coastal and rural communities along with stunning natural beauty adds a contemporary feeling to Italian holidays. When you've visited once, you'll know there's no mistaking Italy's one-of-a-kind feeling.

Many visitors to Italy are understandably drawn to the spectacular coastlines, and there's a spot that suits everyone. Tinged with the scent of the local lemon groves, the Sorrento and Amalfi coastlines have idyllic bays, Mount Vesuvius views and easy access to the islands of Capri and Ischia known especially for its superior spa hotels. If you want to soak up a little sophistication while exploring Italy's west coast, this is the spot for you. If you're a self-confessed foodie or wine connoisseur, Tuscany will provide a genuine journey of discovery. If you like to travel as a family, the islands of Sardinia and Sicily are particular favourites, while the Italian Lakes offer a distinctive feeling of romance thanks to the seductive natural beauty of this region. And if you're a long weekend kind of person, Italy's cities are simply perfect for short breaks.

Your holiday to Italy really can be as action-packed or as horizontally relaxed as you like. If you have itchy feet, you'll have your choice of cultural sites to explore wherever in Italy you go, with shopping opportunities at every twist and turn too. In the countryside, hiking and biking is available in abundance, while on the coastlines, water sports reign supreme. But if your idea of a break is more relaxed, you've got your pick of pretty beaches, spa resorts and countryside retreats. You really can shape Italy to be what you want it to be. Easy to explore by car or train, why pick one Italian destination? Multi-centre visits in Italy are a breeze and allow you to see many sides of the country.

One thread that weaves itself into most holidays is the desire to be wowed by the Italian cuisine. If this is you, then you won't be disappointed. Even Italian style fast food from kiosks and low key eateries can transcend expectations. But there is also a choice of fine dining establishments to wow you at the other end of the spectrum too. Expect to find all the Italian staples melded together with fantastic innovation, infused with farm fresh ingredients and washed down with incredible locally sourced wines.


When to visit
You can visit Italy throughout the year, depending on what type of holiday you desire. For coastal and beach holidays, the temperatures are comfortable or warm between March and November, while the colder months are ideal for museum and gallery focused city breaks.
Italy Tourist Tax
Tourist taxes are payable in many areas of Italy. The amounts vary between region and hotel star rating, and are payable by customers locally on departure from the hotel. Tourist taxes are generally up to €7 per person per night (often with reductions for children). Our reservations team can advise current hotel taxes.
Lorem 6 ipsum dolor sit amet consectetur adipisicing elit. Architecto earum neque, nihil, eos quaerat modi magnam et recusandae, consequuntur hic accusantium sapiente itaque praesentium atque! Quisquam nemo accusamus doloribus quis laborum illo magni aliquam non architecto aperiam dolores, excepturi fugiat ut aliquid quaerat, minima porro maiores, sint molestias voluptate. Facilis repudiandae labore cupiditate odit alias ex nesciunt laboriosam quam ipsam veritatis at quia unde consectetur quos inventore hic vel consequuntur dolorem assumenda deserunt vitae vero obcaecati, adipisci dolore. Nihil soluta cum placeat, doloremque eius ea rem mollitia, cupiditate voluptatem vitae sequi facilis quod numquam aliquid, repellendus odit quasi tempora suscipit!