Italian Lakes Holidays
The Italian Lakes have become synonymous with romantic holidays in some of the most immense geographical settings in the world. Here's our insider guide to the best Italian Lake to visit and why.
Romance is well and truly alive in the Italian Lakes. From the likes of Lake Garda and Lake Como, which have become well-known thanks to the rich and famous who like to holiday there, to sleepier localities such as Lake Maggiore, the Italian Lakes offer holidays to suit tastes across the spectrum. With water sports and adrenaline-pumping activities in the mountains, to laid-back lakeside strolls and café culture, the Italian Lakes are places to be as relaxed or as active as you like. Found in the foothills of the Alps, the scenery blends deep blue waters with dramatic steep mountainous backdrops. It's difficult not to find a soft spot for the Italian Lakes – here's why.
Lake Garda
Found in the heart of northern Italy with Milan, Venice and Bologna almost an equal distance away, Lake Garda is also Italy's most popular and largest lake. At 143 square miles in size, peppered with islands and bordered by mountains and postcard-perfect villages, Lake Garda is a feast for the eyes. Enjoying a mild climate, the Lake Garda region is characterised by olive and lemon trees, striking mountains and brilliant blue waters.

With 90 miles of coastline, there's a huge variety of life to be found on the edges of Lake Garda. There are 15 towns and yet more smaller villages, each with a history and character of its own. Given its size, there's a noticeable difference between the north and south of Lake Garda. The north has taller mountains with a narrower stretch of lake sitting in between, making the scenery more vivid and activities more adventure-oriented, from mountaineering to water sports. The southern part of Lake Garda is relatively open and flat, with a smattering of pebbled beaches leading directly into the water and a number of vineyards in the surrounding area, famous for producing Bardolino, Soave and Valpolicella wines.

Towns and accommodation choices around Lake Garda offer a great diversity of experiences. In the south of Lake Garda, coastal towns such as Bardolino, Desenzano and Sirmione are iconic of the region.
Bardolino
Bardolino is surrounded by vineyards, so locally produced wines can be found in abundance here. As in many Lake Garda settlements, archaeological findings show Bardolino has been inhabited since prehistoric times. With 12th century city walls and numerous churches, Bardolino is a romantic place to wander around, while the Zeni Wine Museum celebrates the wine history of the region. The Aqualux Hotel Spa Suite & Terme is a top option for accommodation, priding itself on its eco-sustainability credentials.
Desenzano
Desenzano is a favourite former holiday spot for the elite of Verona. Nowadays, it has a pretty harbour, three large beaches and a thriving nightlife scene, with music bars and laid-back open-air cafés. The Villarosa Hotel is a superb option for accommodation here, with elegant rooms and fabulous lake views, ideal for viewing with a cocktail in hand.
Sirmione
Sirmione is widely recognised for its peninsula, just a couple of hundred yards wide, which extends for about two miles into the lake. The town itself sits right at the spit's tip, offering almost 360° views of the lake. Visitors are spoiled for choice with romantic hotel options in Sirmione, such as the Palace Hotel Villa Cortine and the Hotel Olivi Thermae & Natural Spa, just moments from the old town and the 13th century castle.

In the more mountainous north and western shores of Lake Garda, Riva del Garda, Gargnano and the Gardone Riviera are some of the best localities to spend some time.
Riva del Garda
Given the stronger winds in Riva del Garda, this is a place for windsurfers and water sports enthusiasts. The grand mountains are also perfect for outdoor adventure fans, with climbing, canyoning and hiking all on offer, depending on just how intrepid visitors are. A medieval fortress, city gates built by the Venetians and glamourous squares complete the picture for culture and activity filled holidays. Look no further than the Lido Palace Hotel as a place to stay, found in a stately 19th century building.
Gargnano & Gardone Riviera
On Lake Garda's western shore, Gargnano offers the best of all worlds with beach life, water sports and mountain activities. The magnificent Lefay Resort & SPA Lago di Garda has immense views from its hillside location. Slightly further south, the Gardone Riviera is a small lakeside resort full of parks and gardens.

For more information and inspiration, take a look at our decicated post on things to do in Lake Garda.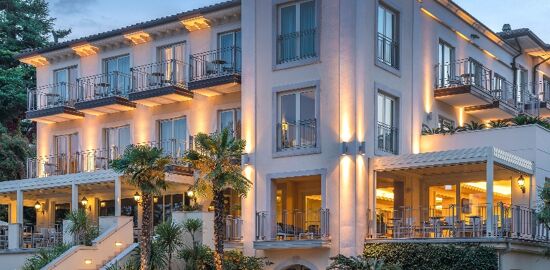 Lake Garda
Villarosa Hotel
4 Star
Light lunches & cocktails are available
Neoclassical exterior style
Set in a small beach area
Enjoy Al fresco on the terrace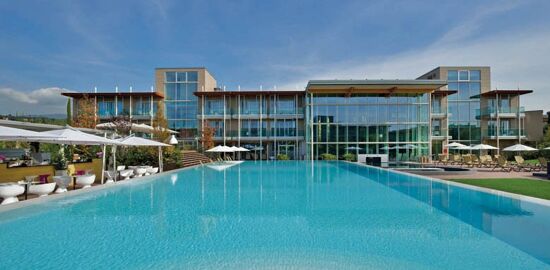 Lake Garda
Aqualux Hotel Spa Suite & Terme
4 Star
Located in the town on Bardolino
Contemporary design
Spacious luxurious guest rooms
Spa & wellness area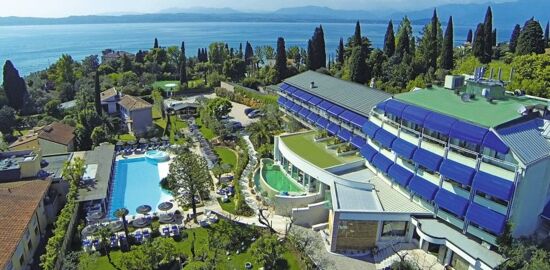 Lake Garda
Hotel Olivi Spa & Natural Spa
4 Star
Gorgeous views over Lake Garda
Located in Sirmione
Dine on the panoramic terrace
Spacious guest rooms
Lake Como
Only 50 miles north of Milan, but a million miles away from city life, is the romantic Lake Como. A destination favoured by the rich and famous, it's easy to see why it's so attractive to visitors. Indeed, the likes of Richard Branson, George Clooney and Madonna have all owned holiday homes around the 56 square mile lake. Pretty small villages are scattered around the lake – which stretches for around 20 miles from top to bottom – offering a high-end but traditional taste of Italian lakeside life. Completing the idyllic picture, the lake has a stunning backdrop of pine covered mountains.

Lake Como splits into two branches in its southern half, and it's in the western branch where some of the most romantic and enchanting villages can be found.
Bellagio
Bellagio sits in a commanding position at the tip of the fork in the lake. A fascinating history is depicted through centuries-old churches, cobbled lanes and grand villas. Surrounded by green mountains, this region has also become popular with cycling enthusiasts, as Bellagio marks the beginning of the climb to the Sanctuary of the Madonna del Ghisallo – the patron saint of cyclists. One of the best places to stay in Bellagio is the palatial Grand Hotel Villa Serbelloni, inside one of the original Bellagio villas dating back to 1873.
Tremezzina
Across the lake from Bellagio is Tremezzina, a small village perfect for relaxing holidays and soaking up some of the most magnificent views of Lake Como. Grand Hotel Tremezzo is a superior accommodation option. In a building dating back to the early 1900s, the hotel features an innovative floating swimming pool set within the lake itself.
Cernobbio
Approaching the most south-westerly tip of Lake Como are the towns of Cernobbio and Como itself. Cernobbio is home to some of the grandest villas of Lake Como, while day-to-day life is a peaceful affair, with casual strolling and enjoying natural vistas popular pastimes. Villa d'Este is an exclusive accommodation choice, decorated with Como silk furnishings and set within a 25-acre park.
Como
Como is a more bustling town, characterised by its lakeside promenade and funicular railway offering unparalleled views of the lake. The Palace Hotel Como is a remarkable place to stay, located inside a 19th century Art Nouveau building.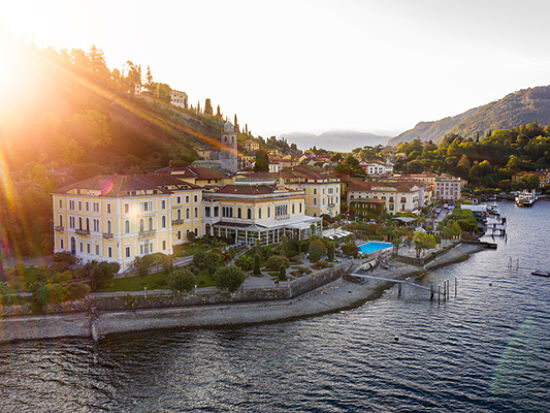 Lake Como
Grand Hotel Villa Serbelloni
5 Star
This landmark hotel occupies a stunning position on a promontory reaching out into the lake in Como's well-heeled Bellagio. Winston Churchill, J.F. Kennedy, Clark Gable and Al Pacino are among the guests who have visited, and Michelin-starred chef, Ettore Bocchia, heads up the hotel's lake view restaurant.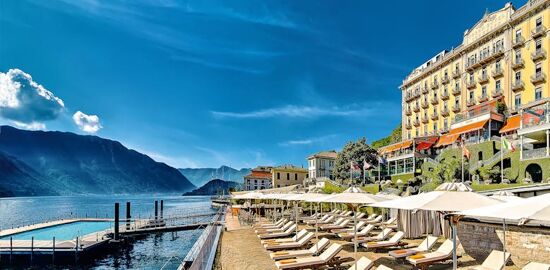 Lake Como
Grand Hotel Tremezzo
5 Star
Enviable views of Lake Como
Guest rooms with garden or lake views
Fitness centre
Al fresco dining with lake views
Private yoga classes with time schedule
Lake Maggiore
Not far from Lake Como is the slightly larger Lake Maggiore, which is 82 square miles large and 40 miles long from top to bottom. Despite the larger size, Lake Maggiore is less bustling than Lake Como, enjoying a leisurely pace of life and a mellow atmosphere. That said, the villages on Lake Maggiore have compelling and authentic foodie credentials, with a huge choice of low-key restaurants and cafés serving out-of-this-world flavours. The more active-minded can embark on walking, biking and boating trips to suit all levels of ability. It's been a popular holiday destination for members of European nobility over the centuries too.

Want to know more about Lake Maggiore? Read our post Top 5 places to visit in Lake Maggiore.

Some of the most stunning Lake Maggiore holiday spots are clustered around halfway down the lake on the western shore.
Verbania
Verbania is a busy but green town, known as 'a garden on a lake'. This is in part due to the impressive botanical garden the area is known for, which has a staggering 20,000 species of plants. This is also the perfect locality from which to explore some of Lake Maggiore's islands, with the Borromean Islands – home to grand palaces and high-end restaurants – just a short journey away. Grand Hotel Majestic is an idyllic spot to stay, offering panoramic lake views and a warren of secret gardens.
Stresa
Stresa is one of the most thrumming of Lake Maggiore's towns, with lots to explore – ideal for those who like to get out and about on holiday. Various grand villas make up some of the most prestigious sights, while cobbled streets and attractive squares make it a romantic place to spend some time. The opulent Grand Hotel Des Iles Borromees is one place to experience the Stresa feeling, with extensive grounds and Japanese gardens. The cosier Villa & Palazzo Aminta is a former private residence, giving a home-from-home feeling.
Baveno
Baveno is Stresa's quieter neighbour, especially well known for its pure mineral water springs, pink granite quarries and a beautiful lakeside promenade. Hotel Splendid is a top accommodation option in Baveno, not only for its impressive lake views, but for one of the few private sand beaches found on the Italian Lakes too.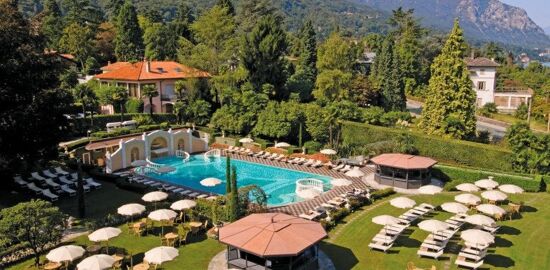 Lake Maggiore
Grand Hotel Bristol
4 Star
On the shores of Lake Maggiore
Completely refurbished
Spacious and finely decorated guest rooms
Panoramic views of the Borromeo Islands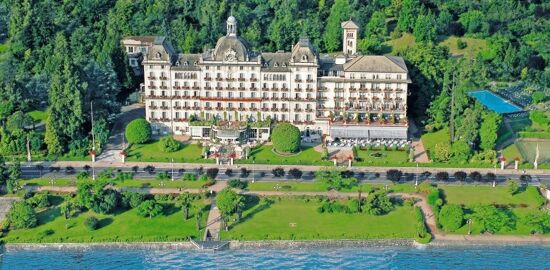 Lake Maggiore
Grand Hotel Des Iles Borromees
5 Star
Enchanting views of Lake Maggiore
Japanese and Italian style gardens
Classically furnished guest rooms
Fine Italian cuisine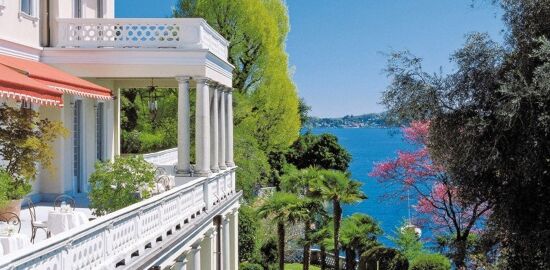 Lake Maggiore
Grand Hotel Majestic
4 Star
Belle Epoque sophistication by the lakeside
Just a few minutes walk from Pallanza
Classically styled and spacious rooms
Exquisite Italian cuisine