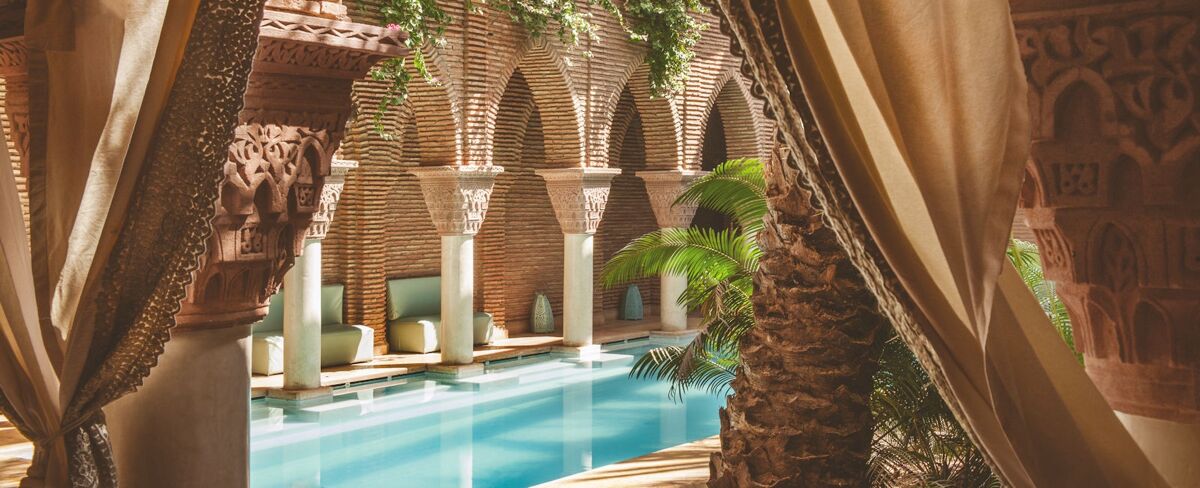 Explore Morocco
Exotic charm, desert chic style and the richness of colour make Morocco a beguiling destination. You'll discover for yourself how the gateway to Africa allows you to walk in the footsteps of ancient civilisations and discover rural or coastal hideaways all in one trip. We have journeyed across this extraordinary land to uncover the most striking places to stay, from riads in the heart of the action, to retreats in the illustrious mountains and by the twinkling coast.

From the Sahara Desert to the High Atlas Mountains, you cannot help but be impressed by Morocco's geographic diversity. Added to that is an enormous coastline and inland cities infused with medieval soul and alluring local life. No two visits to Morocco are the same, thanks to the medley of places, people and peerless experiences to be had.

The starting point for many Moroccan trips is in resplendent Marrakech. A city of creativity, ancient culture and lively souks, you will not struggle to fill your days in this magic-filled centre. Take in the Bahia Palace and Saadian Tombs, soak up the intricate Islamic architecture and elegant minarets, and get lost in the souks and artisan workshops to buy a slice of the city to take home with you. If you can tear yourself away from the city's charisma, there is so much more to explore in Morocco too. Get lost in the winding alleyways and squares of Fez where the expansive car-free medina feels in tune with its ancient past. Take some time to connect with nature high up in the Atlas Mountains. Or spend some time by the coast in Agadir or Essaouira, where the tranquil charm of seaside living blends perfectly with the bustle of coastal life.

The Morocco experience by definition means you can be as active or relaxed as you like when you visit. Outdoor enthusiasts will be wowed by the hiking and cycling opportunities in the Atlas Mountains, where you can expect jaw-dropping views over the red and ochre landscapes, and lunch stops in traditional Berber villages. Out at sea, you can get involved in water sports such as windsurfing and bodyboarding, while deep sea fishing can bring some rich catches. Throw in a great selection of golf courses, cookery schools where you can learn the secrets of Moroccan tagines and sweet pastries, plus spas and hammams for indulgent and invigorating treatments and your visit to Morocco will be as eclectic as the country itself.

If you're a foodie visiting Morocco, you should prepare yourself for an exquisite culinary adventure. Influenced by Berber, Bedouin and Moorish cultures, you'll experience herb-infused stews and soups, couscous and pastries, sweet fruits and spiced nuts. You can enjoy the cacophony of flavours in gourmet restaurants and unassuming eateries. In all, you can taste the passion and heritage that goes into each and every dish.


When to visit
The vast landscape of Morocco means you can visit the country any time of year, depending on what kind of trip you would like. Many people most enjoy the pleasantly warm temperatures between September and November, and March to April. During Ramadan, restaurants may be closed during the day, but evening and night time celebrations can be fun-filled and lively.
offer areas for dining al fresco, boasting great views into the medina below.
Lorem 6 ipsum dolor sit amet consectetur adipisicing elit. Architecto earum neque, nihil, eos quaerat modi magnam et recusandae, consequuntur hic accusantium sapiente itaque praesentium atque! Quisquam nemo accusamus doloribus quis laborum illo magni aliquam non architecto aperiam dolores, excepturi fugiat ut aliquid quaerat, minima porro maiores, sint molestias voluptate. Facilis repudiandae labore cupiditate odit alias ex nesciunt laboriosam quam ipsam veritatis at quia unde consectetur quos inventore hic vel consequuntur dolorem assumenda deserunt vitae vero obcaecati, adipisci dolore. Nihil soluta cum placeat, doloremque eius ea rem mollitia, cupiditate voluptatem vitae sequi facilis quod numquam aliquid, repellendus odit quasi tempora suscipit!