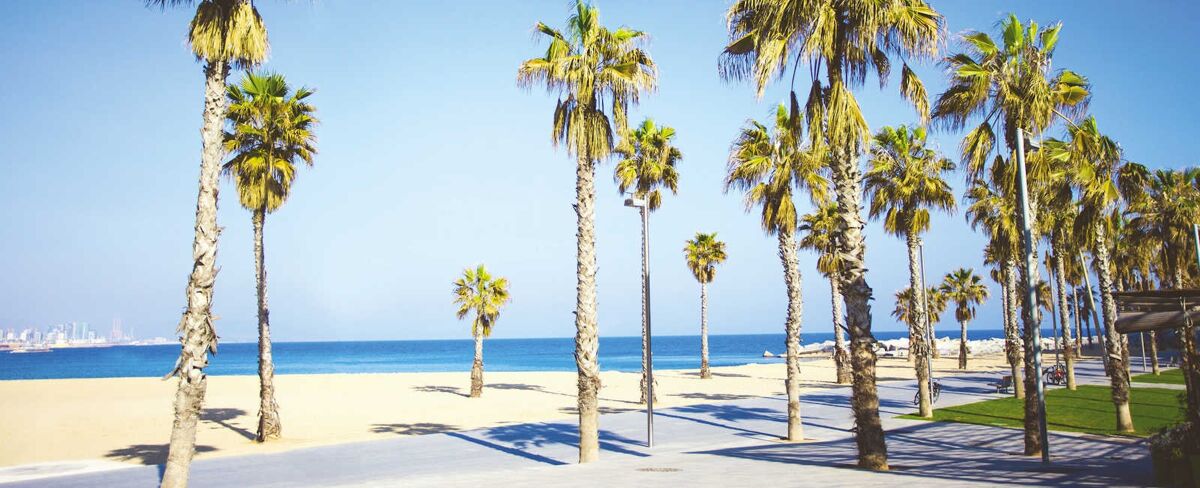 Explore Spain
Dazzling natural vistas combined with an expressive culture gives Spain a magnetic appeal. If you're looking for endless beaches, towns and cities that exude charisma and a fun-fuelled atmosphere, your experience in one of Spain's diverse destinations will totally win you over. We've travelled far and wide across Spain and its Balearic Islands and Canary islands, to uncover the very best places to stay, ranging from beach-front resorts that emanate grandeur, to tucked-away hotels that transport you to an otherworldly paradise.

Each and every visit to Spain is different, thanks to the unimaginable diversity the country offers. But wherever you go in Spain, you'll be connected by the bounteous climate, good-looking views and warmth of spirit that are all inherently Spanish. This is a land where you can roam from the ancient cultures imbued in city streets, to the calm of the postcard-perfect beaches. It's also a place where you can rise early and breathe in the herb-scented air with a coffee at hand, or where you can stay out late just to eat and chat, or to find some festivities to get involved in.

The Spanish experience that you decide to embrace is yours to craft entirely. On the southern coastline hotspots, you'll live beach life to the maximum. If you're travelling as a family, days of sandcastle-building, siestas and paellas by the beach await. If you're on an adults-only escape, lazy lunches, rounds of golf and evening sangria and tapas may be more your thing. This laidback lifestyle can be replicated on any of Spain's islands too, which all offer a little something for everyone. Visit water parks or volcanic peaks, meander along beachfront promenades or hike in the hills, indulge in low key lazy lunches or hit the spa. There really is something for each and every type of break in Spain.

If you're curious about Spain's illustrious history and urban life, the cities of Madrid and Barcelona will not disappoint. Each city has its own culture, and while the capital of Madrid blends its high-brow art credentials with a thrumming atmosphere and exciting culinary scene, Barcelona is a fun-loving coastal city melding innovative gastronomy, outdoor living and sometimes quirky architecture. The region of Andalucía brings urban and coastal life together, with the lure of the 'Costas' to the south and the enchanting charm of the majestic countryside, peppered with world-renowned centres such as enchanting Seville.

The culinary credentials of Spain are noticeable in every corner you might travel to. Known for the authentic flavours cooked with incredible flair, your taste buds will roam from simple tapas dishes to the freshest seafood and innovative twists on Mediterranean staples. Home grown produce reigns supreme in Spain, so expect to find many of your meals accompanied by the sweetest olive oils, artisanal meats and cheeses, or citrus fruits bursting with flavours. You'll also dine in either unassuming tapas bars or gourmet restaurants but always with a passionate chef at the helm.

The range of things to do in Spain and mild to warm year-round climate means it's never a bad time to visit the mainland or the islands. The warmest months are between April and October.
Lorem 6 ipsum dolor sit amet consectetur adipisicing elit. Architecto earum neque, nihil, eos quaerat modi magnam et recusandae, consequuntur hic accusantium sapiente itaque praesentium atque! Quisquam nemo accusamus doloribus quis laborum illo magni aliquam non architecto aperiam dolores, excepturi fugiat ut aliquid quaerat, minima porro maiores, sint molestias voluptate. Facilis repudiandae labore cupiditate odit alias ex nesciunt laboriosam quam ipsam veritatis at quia unde consectetur quos inventore hic vel consequuntur dolorem assumenda deserunt vitae vero obcaecati, adipisci dolore. Nihil soluta cum placeat, doloremque eius ea rem mollitia, cupiditate voluptatem vitae sequi facilis quod numquam aliquid, repellendus odit quasi tempora suscipit!