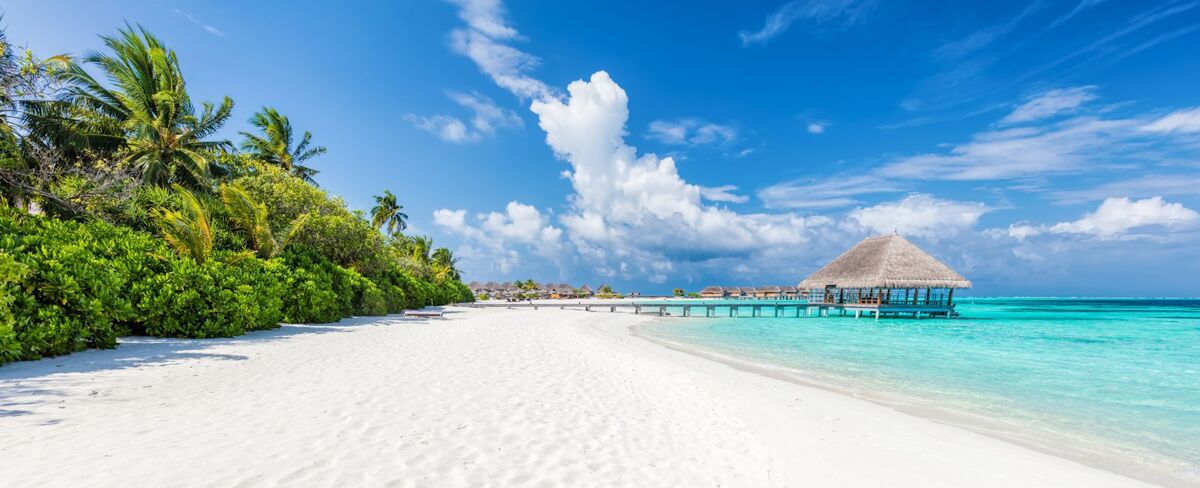 Explore Maldives
When you think 'tropical paradise', that image in your mind's eye is the archipelago of islands that makes the Maldives. This is a country where paddle boarding and massages, private dining and island hopping, dolphin spotting and sunset cruises, could all become part your daily existence. We've scoured this ridiculously idyllic archipelago in the Indian Ocean to find the most fabulous resorts of all, each one its own private island fringed by Insta-perfect beaches, complete with swaying palm trees and teeming coral reefs.

As soon as you step off the speedboat or seaplane from the capital Male, the sea is the thread that connects every moment. Whichever of the 1,200 islands you find yourself on, you will discover the softest sand you've ever felt, and dazzling turquoise waters that are almost unbelievable. Luxurious resorts have been created to match the paradise of the natural world, making the Maldives a destination that lives and breathes the essence of barefoot luxury.

Your time in the Maldives is yours to spend exactly as you desire. The impeccably designed resorts provide everything you need to create a rhythm of life of your own design. Spend days on the deck of your overwater villa, exploring the lush interior of your island, or sipping cocktails by your private pool. Indulge in a little spa time, snorkel or dive amid the rainbowed coral reefs, or visit a traditional community on a local island. And when the evening draws in, climb aboard a traditional boat and travel to an uninhabited island, for an evening meal under the stars that you'll never forget.

A destination that embraces the concept of relaxation, every Maldivian resort offers incredible spa and wellness experiences. You'll discover these spas in treehouses or hideaway gardens, while a menu of original treatments are accompanied by oils infused with locally sourced ingredients, from seaweed to island-grown herbs.

While the Maldives is a quintessential honeymoon destination and adult only retreats, it is also a perfect spot for once-in-a-lifetime family holidays. Family villas with private pools, kids clubs with a difference, and evening outdoor cinema or stargazing activities mean the Maldives is genuinely family friendly, and everyone can have an exceptional experience in this incredible setting.

The cuisine in the Maldives will capture your imagination just as much as island living itself. Influenced by flavours from India and Sri Lanka, you can expect cuisine infused with spice, and plenty of freshly caught fish. The astounding natural beauty of the Maldives means many of the hotels and resorts are intent on doing everything they can to protect it. As a result, food sustainability is important here, and many chefs source their produce locally and have their own island kitchen gardens for growing herbs, fruit and vegetables.

The best time to visit is November to April, with January to March the driest months, but there is never a bad time to be here.
Lorem 6 ipsum dolor sit amet consectetur adipisicing elit. Architecto earum neque, nihil, eos quaerat modi magnam et recusandae, consequuntur hic accusantium sapiente itaque praesentium atque! Quisquam nemo accusamus doloribus quis laborum illo magni aliquam non architecto aperiam dolores, excepturi fugiat ut aliquid quaerat, minima porro maiores, sint molestias voluptate. Facilis repudiandae labore cupiditate odit alias ex nesciunt laboriosam quam ipsam veritatis at quia unde consectetur quos inventore hic vel consequuntur dolorem assumenda deserunt vitae vero obcaecati, adipisci dolore. Nihil soluta cum placeat, doloremque eius ea rem mollitia, cupiditate voluptatem vitae sequi facilis quod numquam aliquid, repellendus odit quasi tempora suscipit!
Featured Hotels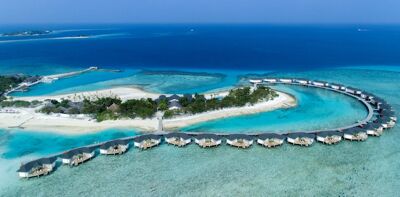 Cinnamon Dhonveli Maldives
4 star
White sands fringed by turquoise waters and the whisper of a breeze passing through palm trees are the hallmarks Cinnamon Dhonveli.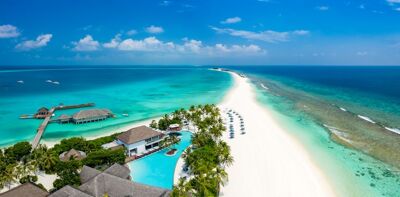 Finolhu Baa Atoll
5 star
Offering luxury and beauty in equal measure, Finolhu Baa Atoll stretches out across four idyllic islands in the remote Baa Atoll, its reefs, submerged cliffs and thilas - small, underwater hills - create an underwater habitat where marine life flourishes.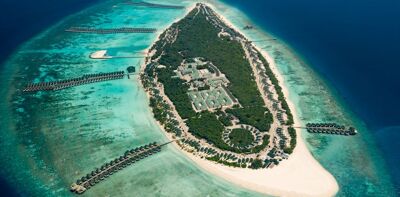 Siyam World
5 Star
Located on one of the Maldives' largest islands, this all inclusive resort is an activity and fun-focused destination resort a 40-minute seaplane flight from Male. Covering more than 130 acres, there are 4km of beaches and a vast 6km house reef to explore.